---
The app that makes practise fun
Koor is a new app that was created with a straightforward aim; making individual choral practise enjoyable.
In Koor, you can hear choral music sung by professional singers. But that's not all. Our interactive player enables you to either isolate your part or control the balance of it in relation to all the other parts. Why not try it out. It's free to use.
---
Bringing choir to you during winter lockdown
We know that choral singers around the world are feeling the loss of their choirs particularly hard in the lead up to Christmas. That's why we're launching three exciting courses to get everyone singing together!
Each of our courses consists of five FREE workshops with singers from some of the world's top professional choirs. We've chosen some wonderful, inspiring music to bring light and warmth during these dark days of winter lockdown: Handel's perennial favourite, Messiah; Beethoven's dramatic Mass in C, and a programme of heartwarming festive music by 20th and 21st Century composers.
In association with these courses, we are presenting three exclusive online concerts. More information to follow very soon!
---
Three FREE online courses
MESSIAH
G.F. Handel
Starting 12th Nov.
Concert 11th Dec.
What would Christmas be without at least something from Messiah. Explore the Christmas section of the Oratorio.
LEARN MORE…
MASS IN C
Ludwig van Beethoven
Starting 11th Nov.
Concert 16th Dec.
2020 is the 250th anniversary of Beethoven's birth. Celebrate by learning his glorious Mass.
LEARN MORE…
CHRISTMAS FANTASIA
Various composers
Starting 16th Nov.
Concert 21st Dec.
A programme of beautiful Christmas music from the 20th & 21st Centuries.
LEARN MORE…
For information on how to access sheet music for these courses [CLICK HERE]
---
Next workshop: November 26th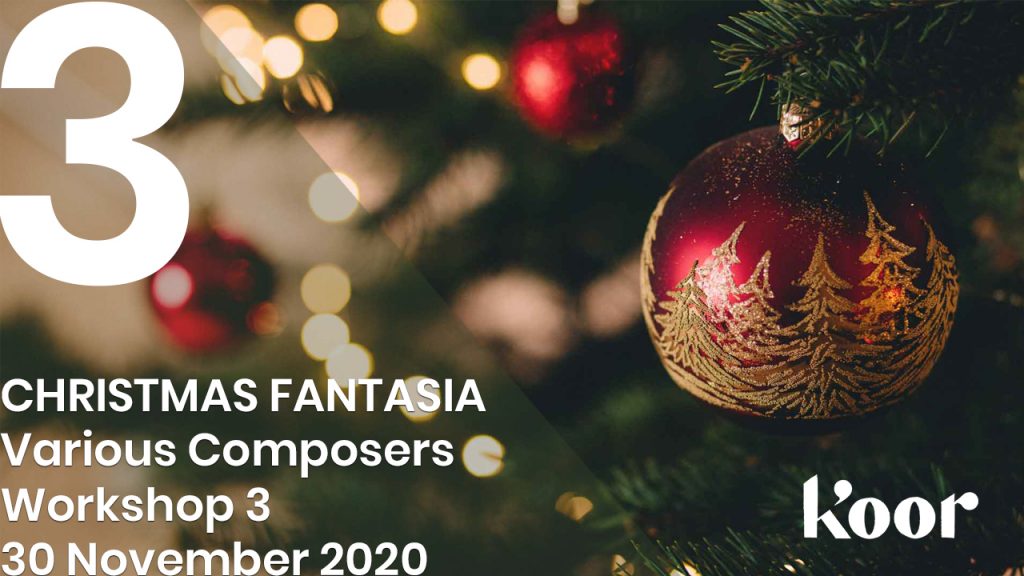 ---
Join our mailing list
---